Working to discourage young people from carrying knives
In the week that Sadiq Khan launched his London Needs You Alive campaign, we also considered the reasons why some young people carry knives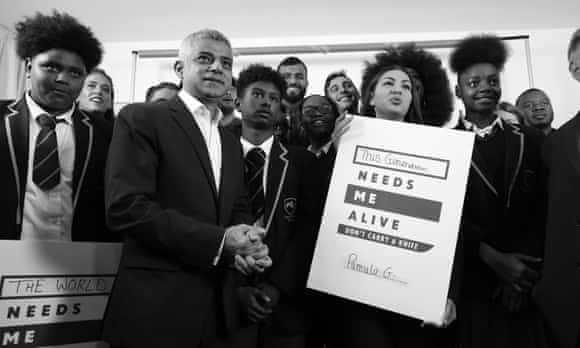 Damien Gayle
---
On Wednesday the London mayor, Sadiq Khan,

launched his latest anti-knives initiative. With the slogan "London Needs You Alive" and the help of a string of young social media influencers, including the chart-topping rapper Yungen, the mayor's office hopes to discourage young people from taking knives on to the streets.
"We can't solve the problem by police enforcement alone," Khan said. "We need to get the message across that our young Londoners are too valuable to risk their lives by carrying a knife. They are our future musicians, artists, sportsmen and women, comedians, scientists, politicians, entrepreneurs and role models. We need them."
This week we published an interview with Whitney Iles, a young woman who has dedicated half her life to solving the problems of youth violence. Whitney and I discussed the question of why young people carry knives.
Radically, Iles sees knife-carrying as not necessarily motivated by a desire to cause harm or even for self-defence, but as a form of communication. "These knives aren't necessarily there to damage, they're there to communicate," she argues. "They're communicating with each other: 'I have the bigger knife, I can do this kind of damage' – but they're also communicating with us."
You can read my full interview with Iles

here, in which she explains why she believes that the first step towards solving the problem of youth violence is to recognise the trauma suffered by young people growing up in a violent society.
The aim of Beyond the Blade is to mark the death of every child and teenager killed by a blade in Britain in 2017. We believe we can only start to tackle this issue once we properly understand its scale. To date, 32 young people have been killed. We

have spoken to those close

to one victim, and

the mother of his killer. We have

spent time with the medicswhose work ensures that the toll of knife deaths in London is not even higher, and we have commissioned opinion articles

from those working directly with young people. We have tracked some of the political initiatives aimed at getting to grips with the problem.
Last week Beyond the Blade was nominated for outstanding journalism at the

Criminal Justice Alliance awards. We lost out to Panorama, for its excellent undercover investigation into life as a prison officer, but it was satisfying to learn that our work is having an impact.
We will bring you more updates before the end of the year. Currently we are busy with a major update of the profiles of those killed by a knife this year, revisiting the stories of young victims wherever there have been developments.
All of them have been heartbreaking, such as the story of Djodjo Nsaka, the student and young father who was stabbed in the heart, and the tale of Denis Petkov, the young Bulgarian found with stab wounds at a house in Essex, whose murder case was dropped after the CPS presented no evidence against the accused.